Digestarom
Digestarom supports the development of gastrointestinal tract and helps to ease stress effects during critical periods in animal production and development.
Benefits:
Higher feed acceptance, enhanced digestibility for a better use of feed

Better efficiency for improved profitability

Support animals on digestive challenges

Digestarom® P.E.P. liquid

A synergistic, phytogenic formula combined with highly available energy and Vitamin E

prevents the animals from digestive stress and minimizes mortality.

For on-farm oral application for neonates during stress phases to safe-guard against enteric challenges

and to reduce losses.

Digestarom support young animals in stressful phases.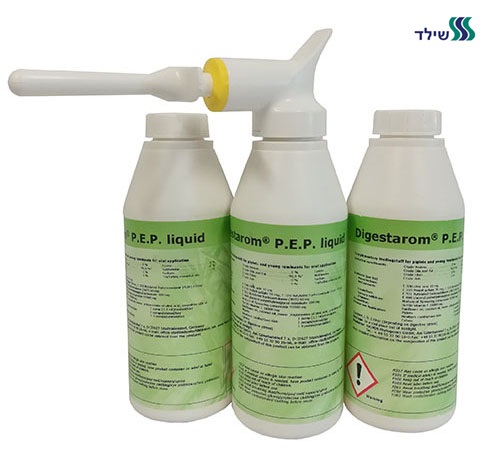 Digestarom® Bos
Phytogenic product formulated for use in milk replacer, starter feed and feedlot receiver diets.
Benefits for calfs:
*High acceptance for fast diet adaptation and higher intakes
*Bolster coping capacity against stress challenges
*Enhanced vitality
*Higher weight gains
*Consistent growth and performance
Digestarom PEP sol
A liquid phytogenic blend of natural extracts from aromatic plants formulated to optimize animal performance.
it maintains feed intake under challenging conditions, enhances animals' tolerance of immune stressors
and promotes a favorable gut microbiota for more energy to be be directed towards growth.
Digestarom P.E.P MGE
Was developed using a specific and tailor-made matrix encapsulation technology for essential oils.
Benefits:
*Even dispersion of active ingredients
*Compatible with pelleting/extrusion
*Continuous release of active ingredients throughout animals' digestive tracts